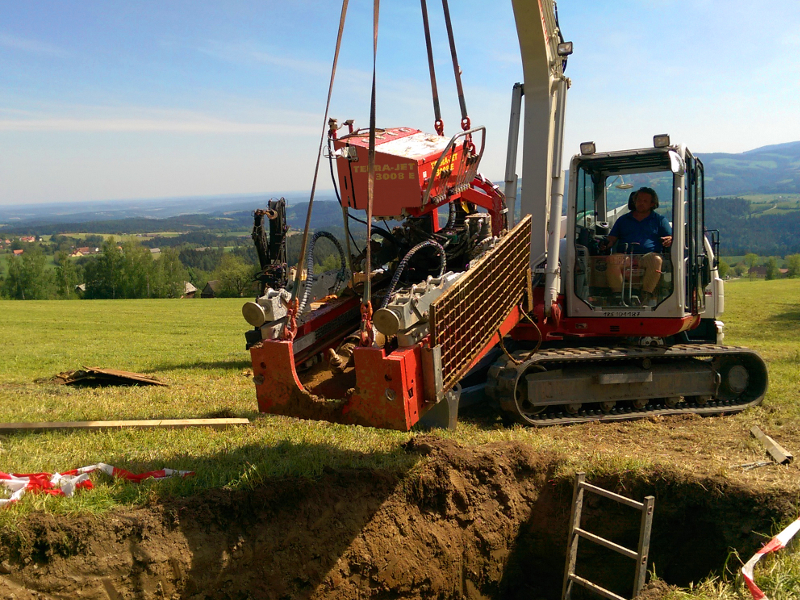 This job site required the non-disruptive crossing of two staggered stone walls and the adjacent forecourt in order to renew a damaged sewer in St. Lorenzen, Austria.

Totally a difference in altitude of 8 m within 18 m horizontal stretch had to be overcome. Due to the house and small garden in front of it an installation of the rig on the upper side was out of question. Pit-launched-HDD-rigs are ideal for such conditions. On the one hand they are shorter in machine length than conventional HDD-rigs on crawlers. On the other hand the steered drilling section just to reach down to the desired laying depth can be completely dispensed.

The Austrian contractor Erdbau Gruber GmbH from Styria has used its pit-launched horizontal directional drilling machine TERRA-JET DJ 18 PIT for this task.

The HDD rig TERRA-JET DJ 18 PIT is equipped with drill rods of 1 m (3.3 ft) length, which allows a maximum bending to a radius of 35 m (132 ft). With a torque of 3000 Nm (2'215 ft/lbs) and with a thrust and pullback force of 8 tons (17'600 lbs, respectively 9 US tons) bore channels up to a diameter of 420 mm (16.5") are feasible.

The compact pit-launched rig has been installed already with a grade of + 35 %. From there the steered pilot bore of 22 m was realized.

The depth of the starting pit and the starting grade of the drill were decided in a way that allowed both, the non-disruptive crossing of the stone wall with its foundation and steering the pilot bore enough upwards in order to reach the target pit as planned.

Progress and accuracy of the pilot bore is being tracked with the locating device. The stone walls and the fences impeded locating slightly. With keeping an eye on the pitch for each drill rod at the monitor on the rig the pilot bore had been realized as planned dead on target into the aiming pit.

Drillmaster Jürgen Ertl manoeuvers the TERRA-JET DJ 18 PIT. Hydraulic cylinders allow an easy, firm and safe tensioning of the machine in the starting pit. The accumulated Bentonite was sucked out by a mud vacuum suction trailer and disposed accordingly.

After the successful pilot bore the product pipe HDPE OD 160 mm was directly pulled in. The picture above shows the backreamer ø 215 mm with connected pipe just before beginning of backreaming with simultaneous pipe pull-in.

The pit-launched-HDD-rig TERRA-JET DJ 18 PIT is designed in the way, that after pipe pulling-in the backreaming and towing tools can be towed into the rig itself. As a result starting pits with minimal pit length can be trenched and at the same time it is ensured that pipes can be pulled out of the ground sufficiently. Additionally that enables an easier removal of the tools after the job is done.